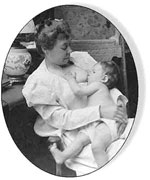 NURSING MOTHER'S TEA
In folk medicine, fennel tea is commonly referenced to increase milk flow in nursing mothers. Fennel tea is well known for its antispasmodic and anti-cramping properties. In addition, it stimulates the appetite, promotes good digestion and is an excellent remedy for gas.
{googleAds}<script type="text/javascript"><!--
google_ad_client = "ca-pub-2970895246189115";
/* naturalsmallrectangle */
google_ad_slot = "4107174196";
google_ad_width = 180;
google_ad_height = 150;
//-->
</script>
<script type="text/javascript"
src="http://pagead2.googlesyndication.com/pagead/show_ads.js">
</script>{/googleAds}
You will need:
1 teaspoon crushed Fennel seeds
1 cup boiling water
Mix the seeds with the boiling water. Cover and steep for 10 minutes. Strain, and sip the infusion. Drinking a tea made with fennel helps to promote the secretion of breast milk in nursing mothers.
Fennel Tea for Colic
Add a half of a teaspoon of crashed fennel (you can crash it by use of the wooden spoon or cut it with a knife) to a cup of water
Boil
Pour through the strainer
You can sweeten it by adding some water which was boiled with sugar
Cool it down.
Fennel tea can be given directly to the baby in small amounts or when breastfeeding you can drink it, as it passes through the milk.