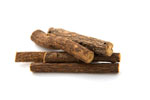 Tea For Bronchial Congestion
Chest congestion happens to the best of us,  you could  have a virus, a cold, or maybe the flu. Drinking plenty of fluids, helps fight off or flush out whatever caused the chest congestion in the first place. Your body needs lots of fluids, such as water, juices and tea, to fight off the cause of chest congestion. Hot beverages like a cup of hot tea is one of the easiest chest congestion natural remedies that can loosen and break down the mucus. Just drinking it is helpful but if you breathe in the steam from the tea can help to open up blocked sinuses
{googleAds}<script type="text/javascript"><!--
google_ad_client = "ca-pub-2970895246189115";
/* naturalsmallrectangle */
google_ad_slot = "4107174196";
google_ad_width = 180;
google_ad_height = 150;
//-->
</script>
<script type="text/javascript"
src="http://pagead2.googlesyndication.com/pagead/show_ads.js">
</script>{/googleAds}
Ingredients:
1 ½ oz Aniseed (Natural

Expectorant

)
1 oz Calendula flowers (Natural

Anti-inflammatory)

3/4 oz Marshmallow root (Natural

expectorant

)
1/3 oz Licorice root (Natural expectorant +

Sweet and flavorful

)
 To make:
Crush Aniseeds and add to herbs.
Pour 1 cup boiling water over 1 tsp mixture;
cover & steep 10 minutes.
Symptoms are the only natural defense our bodies have to protect us.