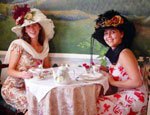 Afternoon Tea Time
Having "afternoon tea" with friends is quite possibly the easiest entertainment option there is. Take a break, relax and enjoy some good conversation with friends. All you need are a few basic ingredients to have a "jolly good" time!
Time and atmosphere
A good time to have "afternoon tea" is at 4:00 in the afternoon. Pick an area of your home where your guests will be most comfortable, near a table large enough to hold your tea service and accessories.
Spread a tablecloth and set a bouquet of fresh flowers nearby for your guests to enjoy. Choose soft music for ambiance.
Equipment
You will need a tea pot or kettle and several ceramic cups and saucers. If you don't have a full tea set, don't worry. A mismatched set will simply add more character and charm to your party. You'll also need:
{googleAds}<script type="text/javascript"><!--
google_ad_client = "ca-pub-2970895246189115";
/* Naturalmedsky */
google_ad_slot = "8922335453";
google_ad_width = 160;
google_ad_height = 600;
//-->
</script>
<script type="text/javascript"
src="http://pagead2.googlesyndication.com/pagead/show_ads.js">
</script>{/googleAds}
Milk, sugar and lemon wedges
Stirring spoons
Small luncheon plates
Eating utensils
the tea!
napkins
(Remember those nice napkins you are saving for a special occasion? Use them now, and celebrate with your friends!)
Tea selection
Unless you know which tea your guests all enjoy, you can set out a variety of teabags for them to choose from, and your teapot can just hold the hot water. If you use loose leaf tea, be sure to set out tea infusers for your guests. These come in many different types, and usually look like large, spherical salt shaker tops with thin chains attached. Loose tea leaves are held inside, and they are used just like tea bags are.

The food
Generally, cold dishes are served with "afternoon tea". Finger sandwiches, on thinly sliced bread with the crusts cut off, are popular. They are served open-faced, with light meats such as chicken and ham. Putting them on a bed of lettuce on a platter will keep them moist. Fruits and salads are also easy to prepare. And don't forget the dessert! Scones and shortbread are always a hit, or serve your favorite treat. Cheers!